Watch Video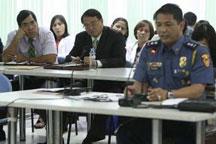 Play Video
A panel investigating the Manila hostage tragedy has revealed that local police lacked a ready mechanism structure to address such crises, and also highlighted miscommunication between key players.
Lead negotiator Lieutenant Colonel Orlando Yebra was quick to admit their negotiations were a failure.
He says Philippine National Police don't have an existing negotiation unit, and not a single psychologist has been sent to the hijacking site.
His testimony also revealed miscommunication between those managing the hostage-taking negotiations.
Lieutenant Colonel Orlando Yebra, Lead Negotiator, said, "Without me knowing that it was indeed ordered, or without me hearing that the order was given, I just saw the SWAT team running towards the bus. So I knew there was order for an assault."
Yebra says a new crisis management structure that would have been more effective had not been implemented. However, the commanding general in the crisis, Rodolfo Magtibay, insists in his testimony that he was following the new structure.
The hostage-taker's brother Gregorio Mendoza denies a charge of telling the hijacker not to accept any deal until his reinstatement of becoming a policeman was granted. He tried to approach the bus without permission earlier in the stand-off. He was later sent away when one of the negotiators discovered he was carrying a gun.
Later, Gregorio Mendoza caused a commotion in front of media when he was escorted to a police precinct, under suspicion of being an accessory to the crime. His rant was broadcast on live television, and could be seen on a TV set inside the hijacked bus.
Gun shots were heard soon after Gregorio Mendoza was escorted by police, and observers say this could have triggered the hostage-taker to start shooting.
Gregorio Mendoza, Brother of Jijacker, said, "I was not being dramatic. I ran because I was avoiding that something bad would happen to me, or that they would incriminate me along with my brother,"
The three days of hearings by the inter-agency panel have uncovered operational lapses and poor judgment calls made by civilian crisis managers and police commanders.
Editor:Zhang Pengfei |Source: CNTV.CN