Watch Video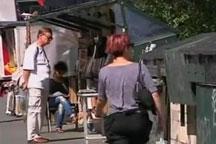 Play Video
The riverside booksellers in the French capital have been ordered to stick to selling books rather than souvenirs. Paris City Hall feels it doesn't give the right image of Paris.
Paris booksellers have been given an ultimatum. Stop selling cheap mass-produced souvenirs or face closure.
The command has riled the booksellers, known as"bouqinistes," along the banks of the Seine River.
Stephanie Kronis, Book Seller, said, "There's a pressure from all the established souvenir sellers in the area and who are worried that they're losing money because the bouquinistes are selling them. And it's the pressure they're exerting that means City Hall is talking about it. Booksellers have existed for 300 years, we are here. But, above all, we are retailers."
Despite the furor and threats of extinction of a business which is more than three centuries old, City Hall is taking a tough line against the selling of souvenirs like Effel Towers and US movie posters--beyond the policy limit.
Lyne Cohen-Solal, Councillor, Crafe Industry for Paris City Hall, said, "The regulation allows them to have one box out of four which is not books or printed stuff, for instance souvenirs. Some of them had more than that, so we alerted them to that. Some stands were not run by the owners or were even sub-let when the place is free."
And the official doesn't put up with any complaints.
She says that there are many ordinary Parisians happy to sell books on the banks of the Seine river and those who are not happy can move aside.
Editor:Zhang Pengfei |Source: CNTV.CN