Watch Video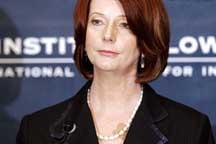 Play Video
Australia's Prime Minister, Julia Gillard, will keep her job, after her center-left Labor Party secured the backing of two key independent MPs. She's set to form a government to rule for a three-year term. Speaking to the media after securing the two crucial independent seats in the lower house, Gillard said Labor is prepared to deliver a stable and effective government.
Julia Gillard, Australian Prime Minister, said, "With today's agreement with the independent members of the parliament, with Mr Oakeshott and Mr Windsor and with the previous agreements reached with the Greens and, of course, with Mr Wilkie, Labor is prepared to govern. Labor is prepared to deliver stable, effective and secure government for the next three years. Ours will be a government with just one purpose and that's to serve the Australian people"
Two of the three independent MPs who held the balance of power, in deciding the fate of last month's election, backed Gillard's Labor Party at the Parliament House on Tuesday afternoon.
Independent lawmaker, Rob Oakeshott, said stability in Parliament, climate change and regional education were what influenced his decision.
Rob Oakeshott, Idnependent Member of Parliament, said, "On an absolute judgment call, and I emphasize it's a points decision, I'm confirming for the governor-general of Australia that today I'll do what I've always done ironically and give confidence and supply to government, and in effect that means confidence and supply in Julia Gillard, unless, and I emphasize unless, exceptional circumstances determine otherwise."
Meanwhile, the other independent, Tony Windsor said energy policy and regional infrastructure were his prime reasons.
Tony Windsor, Independent Member of Parliament, said, "My vote will be going to the Gillard government. It will only support, well I won't support trivial no confidence motions. I will support supply, and I will reserve the right to represent my constituency on any vote in the parliament, and also reserve the right to move a no confidence motion in the government as I see fit."
The Labor Party now has 76 seats, with the Coalition holding 74.
The results give Labor just enough seats to form a government.
However, Parliament will not resume until the Australian Electoral Commission officially finalizes the election count.
Editor:Zheng Limin |Source: CNTV