Watch Video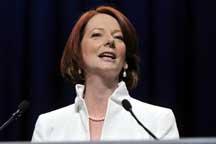 Play Video
Australia's first female prime minister, Julia Gillard, will keep her job, after cobbling together enough support to form a minority government. Let's take a look at the woman behind the job.
Julia Gillard was born in Barry, Wales in 1961.
She grew up in Adelaide and then went to study Law at the universities of Adelaide and Melbourne.
After graduating from university, she began working in a law firm and became partner when she was 29, while focusing on employment law.
Gillard was elected member of the Federal Parliament for the Labor Party in 1998.
From 1998 to 2001, she served on the House of Representatives Standing Committee on Employment, Education and Workplace Relations.
In 2001, she was appointed Shadow Minister for Population and Immigration and subsequently took on responsibilities for Reconciliation and Indigenous Affairs in 2003.
From 2003 to 2006, she was Shadow Minister for Health.
Gillard became Deputy Leader of the Labor Party when working under former Prime Minister Kevin Rudd. The Rudd-Gillard leadership team led Labor into government at the general elections in 2007.
Party power-brokers blame Rudd for dragging down the Labor-led government's popularity in opinion polls. Gillard seized the leadership unopposed when she challenged Rudd on June 24th in a party ballot.
And now Julia Gillard will stay as Australian Prime Minister and form a minority government, as the Labor party has won the backing of two key independent MPs following an inconclusive election result.
Editor:Zheng Limin |Source: CNTV