Watch Video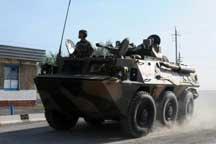 Play Video
All units of the Chinese military corps taking part in joint military exercises of the Shanghai Cooperation Organization have arrived at the site of the drill in Kazakhstan.
At 9 o'clock Thursday morning local time, the train carrying the sixth unit of Chinese troops arrived, after a week-long journey, stretching five-thousand-kilometers. This means all 1,000 of China's participating troops have arrived.
Known as Peace Mission 2010, the drill is being carried out under the framework of the Shanghai Cooperation Organization. It's the 7th of its kind with an anti-terrorism nature. On Tuesday, 4 helicopters from China landed at the site to participate in the military exercises.
Editor:Zhang Ning |Source: CNTV