Watch Video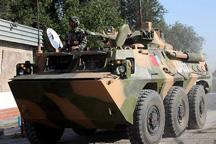 Play Video
Peace Mission 2010, a multi-national anti-terror military drill, has kicked off in Almaty in Kazakhstan. The drill is being held under the framework of the Shanghai Cooperation Organization. Troops from participating countries are making comprehensive preparation for the exercise.
The day started with a sharp whistle.
This barracks in Kazakhstan took Chinese soldiers several days to build a spot where they will start their first day of training.
There are no regular drill grounds, so soldiers have to conduct their morning drills on trails around their camps. They also need to do physical strength training, because at the end of the joint drill, a military parade will be held.
Xiao Wubin, Platoon leader, said, "We are trying to find as much time to practice military positions, goose steps and quick marches. We want to show the good spirit of Chinese soldiers. "
While other soldiers are taking a military stand, this squad is practicing something different. They are Chinese commando troops who will participate in the joint drill.
Gao Xuewang, Platoon Leader, Commando Troops, said, "Our squad is focusing on training for physical strength. Today we will do exercises to help us recover our strength and tomorrow, we will double the intensity. "
Besides the ground forces, the Chinese air force is also ready for the drill. These jets have gathered at an airport in Northwest China ahead of their debut.
All the fighters and bombers to be used in the maneuvers are new models, designed and developed by China.
These planes will fly into Kazakhstan to carry out exercises and return to their home base afterwards.
Related stories
Editor:Zhang Jingya |Source: CNTV