Watch Video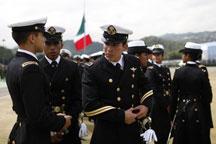 Play Video
Mexico, will celebrate the country's bicentennial independence on Wednesday. President Felipe Calderon has visited a historic monument, and presided over a military parade, ahead of the festivities.
Felipe Calderon visited the Mexico City monument known as the Altar to the Nation on Monday. The site honors six teenage cadets who died as US forces seized the historic Chapultepec Castle.
The ceremony commemorated the 1846 through 1848 Mexican-American War. The country ceded nearly half of its territory to its northern neighbor after that conflict, including a large swath of land from western Texas to Colorado to California.
Felipe Calderon, Mexico President, said, "When we united, we gained our independence. When we divided, we lost half of our territory. We we united, we won a revolution, a victory which is still bearing fruits. Only when united do we prosper. That's the great lesson of our history."
Calderon then headed to the Mexican Army Heroic Military Academy, where he presided over a parade called the "Independence and Freedom" march.
The President will lead an emotional ceremony at the National Palace in Mexico City on Wednesday. A number of special events are planned to mark the country's bicentennial celebration of its independence from Spain in 1810.
Calderon is scheduled to attend another military parade on Thursday. Troops from more than a dozen nations are taking part this year. Domestic soldiers will march alongside their counterparts from such countries as China, Venezuela, and Russia.
Related stories
Editor:Zhang Pengfei |Source: CNTV.CN