Watch Video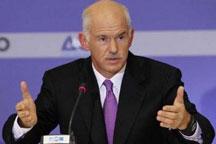 Play Video
Officials, from global financial institutions, including the International Monetary Fund and European Central Bank, are in Athens. They're reviewing the economic progress Greece has made so far, in recent months.
Monitors from the IMF, EU, and the European Central Bank are discussing the next instalment of a 110 billion euro bailout package to battle Greece's debt crisis.
The meeting comes a day after the country's Prime Minister, George Papandreou, said he was optimistic about the country's recovery.
George Papandreou, Greek Prime Minister, said, "I believe this new confidence we have in our capabilities will bear fruit, not only in cutting down our deficit -- which is important of course in helping dealing with our debt -- which is an important issue for many of our creditors, but also will be able to allow us to create the confidence for investment and stimulating the economy."
Greece needs to cut its budget deficit to 8.1 percent of GDP this year from 13.6 percent last year.
But austerity measures like tax hikes and a reduction in public sector salaries and pensions have been met with fierce opposition, especially when the country is in recession.
Greece is now faced with the challenge of reassuring its own people as well as the international markets who are still nervous about the country's economic future.
Related stories
Editor:Zhang Pengfei |Source: CNTV.CN