Watch Video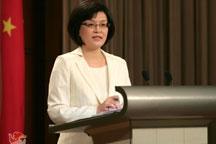 Play Video
China has demanded Japan to immediately release the fishing boat captain detained by Japan's Coast Guard near the Diaoyu Islands since early Wednesday. Foreign Ministry spokeswoman Jiang Yu has urged Japan to drop any case it might be preparing against him.
Jiang Yu, Spokeswoman of Chinese Foreign Ministry, said, "Regarding Japan's illegal detention of the Chinese vessel and fishermen in the Diaoyu islands marine area, what is most urgent is that Japan immediately stops its so-called "legal" procedures and allows the captain to swiftly and safely return"
After China's repeated solemn representations, 14 Chinese fishermen illegally seized by Japanese authorities have been flown back to East China's port city of Fuzhou. However the captain of the boat is still being detained. Zhan Qixiong, is being held by Japanese authorities for allegedly "obstructing public duties." A Japanese court has ruled he be detained for 10 days, until September 19th.
Related Reading:
China demands halt to Japan's so-called "legal procedures" against trawler captain: FM spokeswoman
BEIJING, Sept. 14 (Xinhua) -- China Tuesday demanded Japan "immediately terminate so-called 'legal procedures'" against the detained captain of a Chinese fishing boat and his safe return home as soon as possible. Full Story>>
Related stories
Editor:Zheng Limin |Source: CNTV.cn