Watch Video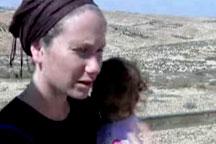 Play Video
Israel's settlement slowdown is a key point of contention in newly launched peace talks. Palestinians have threatened to quit peace talks if the restrictions are not extended. Settlers speak out their mixed feelings.
As Palestinian and Israeli teams sit down to a second round of talks in Egypt, one of the toughest issues they'll hash out is settlements. Around half a million Jewish settlers live in the West Bank, a disputed area occupied by Israel since 1967.
Settlers claim biblical rights to the land and vow to continue expanding. Palestinians say the land belongs to them and settlers shouldn't be there.
The pressure to resolve the issue is on the leaders.
Avigail is an illegal community of Israeli settlers built 9 years ago without permits or permission. Israel's government allows them to stay and the settlers say it's their right to be here – they're defending what's theirs.
Assaf Orbach, Jewish Settler, said, "The land of Israel and its people are inseparable. Israelis' livelihoods thrive on this land. That's why I live here. It's my only choice."
But as negotiations advance, those who want them out may get violent. During the last round of talks, 4 settlers were killed by Hamas extremists in a drive-by shooting.
Michal Berg, Jewish Settler, said, "For us, running away and letting Palestinians live here is not the solution, even if they intimidate us and want us to leave."
Despite the fear, Berg says she will stay put.
"This is my land. How can I be afraid here? This is my land." Michal Berg said.
Down the road, the view for Avigail's neighbors is different. This Arab community lacks infrastructure and basic facilities. They say they've been on their land for decades and are being pushed out by settlers. Sometimes violently.
Eid Hathaleen, UM El Hehr Villager, said, "At times, the settlers attack us inside our houses when it's dark as we sleep."
Regardless, Eid says he holds out hope for a peaceful resolution. His father Suleiman is a different story. He's fed up and says he just wants to live on his land.
Suleiman Hathaleen, UM El Hehr Villager, said, "There will never be peace. Never. Not for this generation, nor the next."
Stephanie Freid, West Bank, said, "Two sides with very different views of how things should be. The question is what leaders on both sides will be willing to concede."
In the interim, both sides remain firm in the conviction that they are here to stay.
Related stories
Editor:Zheng Limin |Source: CNTV.cn