Watch Video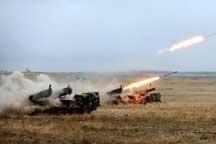 Play Video
Troops from the Shanghai Cooperation Organization countries participating in Peace Mission 2010 held their 4th joint exercise.
At 10:50 am Saturday, three signal flares officially started the first live firing drill for Peace Mission 2010.
During the one hour exercise in the morning, the troops conducted 3 operations, including firing preparation and target penetration, encircling and suppressing enemies at a residential area, and putting reserve forces into battle.
At night, the troops also carried out a joint drill on raiding enemy bases.
China's troop commander Li Shaojun said the number of forces and weaponry for this drill are the most comprehensive of the four exercises.
He praised the leaders and soldiers who took part in the drill, saying their performance represents the latest development of Chinese troops.
Li also stressed that most of the expectations for the drill were met, except for that involving the air forces. Due to bad weather, several fighter planes from other SCO members didn't arrive at the assigned location on time.
The Defense Minister of Kazakhstan, Adilbek Dzhaksybekov, oversaw the drill.
Two more drills are scheduled for the 20th and 22nd of September.
Related stories
Editor:Zhang Jingya |Source: CNTV