Watch Video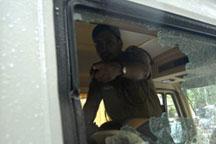 Play Video
Indian authorities have confirmed that the two Taiwan tourists injured in New Delhi on Sunday are out of danger. Police have increased patrols across the city, amid growing concerns about security, for the up and coming Commonwealth Games.
Two gunmen on a motorcycle shot and wounded the two tourists on Sunday near the Jama Mas-jid, one of New Delhi's most popular tourist destinations. An Islamic militant group then sent an e-mail to the BBC , taking responsibility for the shooting and threatening to attack the games. Officials, said they had no information about the e-mail. Police have launched a massive manhunt for the gunmen...and a high security alert has been ordered in New Delhi and Mumbai. Commonwealth Games organizers, have assured member nations about the safety of athletes.
Suresh Kalmadi, Chief Organizing Committee, Commonwealth Games, said, "They are convinced the security is okay. And they know that this was not a Games related thing that took place at the Jama Masjid. It was not a games related matter; if it was in a stadium or something.... the police are looking at it and we will know what it's all about."
Editor:Du Xiaodan |Source: CNTV.CN