Watch Video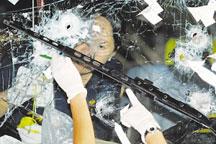 Play Video
The Hong Kong S.A.R Government has received the Philippines' first investigation report on the bus hostage incident. While recognizing what has already been done by the Philippine investigators, the Hong Kong government has called on the Philippine authorities to make further efforts to handle the aftermath of the incident properly.
The Hong Kong government says it needs time to scrutinize the lengthy report on the Manila hostage incident. It sincerely hopes the Philippine authorities can continue with their efforts in dealing properly with the aftermath and completing the rest of the investigation.
A spokesman for the Hong Kong Government says the Philippine Investigation and Review Committee has not been evasive in confronting the critical issues and given a detailed account of the incident. This positive attitude deserves to be acknowledged.
The Hong Kong government says the Committee has shown its sincere efforts in working against time and relative physical constraints to complete its first report.
It says the report contains severe criticisms of the key officials involved for their lapses of judgment and the way they handled the matter. The report also recommends the relevant officials be held responsible and action be taken against them accordingly. The Hong Kong government says the Philippine investigators have been serious in handling the matter.
The Hong Kong government also says the report admits the causes of death of the eight victims and the causes of injury of the seven others need to be further ascertained. As the final conclusion has yet to be drawn, the Hong Kong government expects the Philippine authorities to step up their efforts to complete the work as soon as possible. The two sides will continue to work closely to facilitate communication for further investigation and follow-up forensic and ballistic examinations.
The statement says the Coroners's Court of Hong Kong earlier instructed the police to assist in the investigation. Upon receiving relevant information and the independent investigation report, the Coroner will decide whether to hold a hearing.
The Hong Kong government reiterates the incident is a heart-wrenching tragedy. As shown by the Philippine investigation report, it could have been avoided. The Hong Kong government applauds the investigation for the Philippines' serious efforts to hold those responsible for the bungled rescue to account.
The Hong Kong authorities will continue with their efforts to help deal with the aftermath in a fair manner to call for justice.
HK RESPONSE TO HOSTAGE-TAKING REPORT
1.Philippine investigators have not been evasive in confronting the critical issues and given a detailed account of the incident
2.The report contains severe criticisms of key officials for their lapses of judgment and the way they handled the matter
3.The Hong Kong government expects the Philippine authorities to step up efforts to complete the work of identifying the causes of the victims' death as soon as possible
4.The HK government sincerely hopes the Philippine authorities will continue with efforts in dealing with the aftermath properly
Related stories
Editor:Zhang Jingya |Source: CNTV