Watch Video
Play Video
While Typhoon Fanapi continues to move west over the Chinese mainland, Taiwan residents are cleaning-up and counting their losses. This year's, strongest typhoon has killed at least one person and injured more than 100.
This is the worst flooding Taiwan's second largest city, Kaohsiung, has ever seen in 50 years. Water roared down streets and alleys, even submerging the first floor of some buildings.
Many other counties and villages are also experiencing an unprecedented deluge in the Island's south.
A local resident said, "I heard a huge sound. It was like an earthquake. So, I ran out and found a tree lying on the ground. Then I realized it was the wind."
Rescue teams have been posted throughout the island to help evacuate trapped or at risk residents. Nearly 12-hundred of them have been transferred from remote areas prone to landslides.
740-thousand households have lost electricity in the storm.
All of Taiwan's rail services and nearly three-hundred flights have been suspended or cancelled.
Authorities have closed inter-county roads and bridges in central and southern Taiwan because of safety concerns. At least 36 roads have been cut off by mud and debris.
The wild weather has also damaged more than 100-thousand Taiwan dollars worth of crops.
Taiwan's weather bureau has forecast more rain over the coming days.
【UPDATES】
Flights delayed due to Typhoon Fanapi in SE China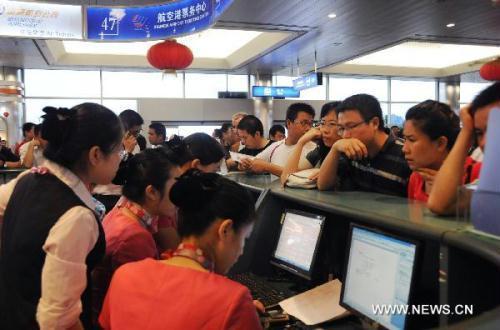 Passengers check flight information at Xiamen Airport in Xiamen, southeast China's
Fujian Province, Sept. 20, 2010. A total of 128 flights in Xiamen were delayed due
to Typhoon Fanapi as of 4 p.m. (0800 GMT) on Monday, causing numerous tourists
detained in the airport. (Xinhua/Zhang Chencen)
Fanapi batters China's eastern coast, no casualties reported
The strongest typhoon this year to hit the Chinese Mainland has made landfall in the eastern Fujian Province, after sweeping through Taiwan. So far, no casualties have been reported.
Coastal cities in the province have been battered with heavy rain, with more expected in the coming days..Full Story>>
【Live cross】
Progress of Taiwan rescue operation
For more on Typhoon Fanapi, we're joined from Taiwan by CTITV News Anchor Eric Shi. Good evening Eric.
1: Can you update us on the latest developments regarding Typhoon Fanapi? Are there any casualty reports? More>>
Guangdong under the infulence of typhoon Fanapi
Part of Guangdong province is now under the infulence of typhoon Fanapi. We're joined on the phone by our reporter Qu Shang, who is in the provincial capital Guangzhou. Hello, Qu Shang.
1: What are the conditions there like right now? More>>
Related stories