Watch Video
Play Video
World leaders have pledged to stick to the Millennium Development Goals to halve global poverty and hunger by 2015. UN Secretary-General Ban Ki-moon has opened the MDG summit, with a plea to world leaders,... to use their power... to help the world's poorest.
Ten years after world leaders set the most ambitious goals ever to tackle global poverty, they have gathered again to spur action to meet the deadline.
The UN chief urged the leaders to deliver the needed resources "above all by exercising political leadership." He called any advances made in public-private partnerships, higher number of school enrollments, and access to clean water "fragile."
Ban Ki-Moon, UN Secretary-General, said, "The transformative impact of the MDGs is undeniable. This is an achievement we can be proud of. But we must protect these advances, many of which are still fragile. And the clock is ticking with much more to do."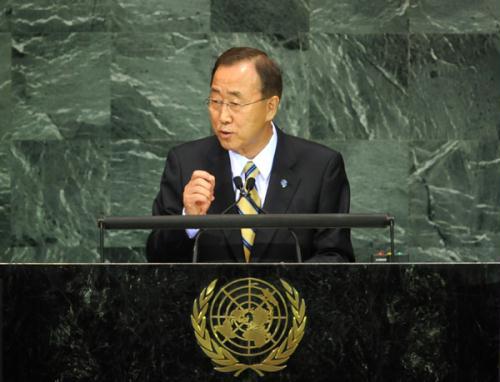 UN Secretary-General Ban Ki-moon addresses the UN Millennium Development Goals (MDG)
Summit at the UN headquarters in New York, on Sept. 20, 2010. The UN MDG summit opened
on Monday.(Xinhua/Shen Hong)
French President Nicolas Sarkozy highlighted that progress has stalled in meeting the development goals, particularly in Africa. Sarkozy says all developed countries must find new sources of funding to help the continent.
Nicolas Sarkozy, French President, said, "We have no right to shelter behind the economic crisis, as supposed grounds for doing less. We have so many millions suffering from AIDS, four million who are ill with AIDS, but they could be looked after. It is not a question of making statements; it is a question of taking action and making decisions."
Bolivia president Evo Morales called on the world leaders to take action to end an unfair global distribution of wealth, as it is the root cause of poverty.
Evo Morales said, "Very many of us are doomed to live out our lives in poverty, and if conditions do not change, dear presidency, heads of delegations, we will never be able to overcome the conditions of poverty that we face as presidents and heads of government across the world."
The UN Millennium Development Goals set for 2015 include reducing extreme poverty by half, ensuring that every child has a primary school education, halting and reversing the HIV/AIDS pandemic, reducing maternal mortality by three-quarters and child mortality by two-thirds.
Related stories