Watch Video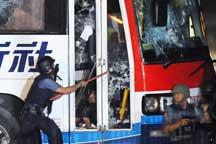 Play Video
The report details at least eight major blunders in the hostage crisis.
In the report, the authority cited what it calls eight major "critical incidents" which led to the breakdown of the hostage negotiations.
The first one was the failure of Manila's Mayor Alfredo Lim, as head of the Crisis Management Committee, to activate the crisis management mechanism. This led to poor judgment on the part of negotiators and rescuers who lacked key information.
The second was that police did not handle hostage-taker Rolando Mendoza's demands properly as they viewed the situation too optimistically.
The third is that after the negotiations was broken down, they could not contact Mendoza as he was interviewing via mobile phone with some media.
The fourth is that major negotiators and some police officers focused on Gregorio, Mendoza's brother, when they should have trained their attention to the infuriated hostage-taker.
The fifth blunder was when police arrested Gregorio upon the orders of Mayor Lim. The report calls this "the proximate cause of the chain of events that led to Mendoza's shooting of the hostages."
The sixth was the departure of Mayor Lim and General Rodolfo Magtibay from the Advance Command Post at a crucial time. According to the report, the move "created a vacuum in command or decision makers"
The seventh was the inefficient, disorganized and delayed assault led by the SWAT team.
The final blunder listed was that there was no organized Post Assault plan,which includes providing timely and efficient medical attention to hostages.
Editor:Zheng Limin |Source: CNTV.cn