Watch Video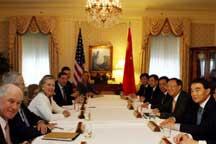 Play Video
China and the United States are enjoying an important opportunity for the further development of their relations. Chinese Foreign Minister Yang Jiechi made the remarks in a meeting with U.S. Secretary of State Hillary Clinton on the sidelines of the ongoing U.N. summit on millennium development goals.
During the meeting with Hillary Clinton, Yang Jiechi said China is ready to work with the United States to strengthen two-way contacts and deepen dialogue.
He said the two sides should deal with differences and sensitive issues in a cautious and appropriate manner and promote the continuous and steady advancement of Sino-U.S. relations.
Clinton said the US is willing to work with China to tackle global challenges and promote the continuous development of ties.
Also on Monday, Yang met with Turkish Foreign Minister Ahmet Davutoglu and Iranian Foreign Minister Manouchehr Mottaki.
During his meeting with his Turkish counterpart, Yang voiced his hope that the two sides would continue to deepen mutually beneficial cooperation.
Davutoglu said that Turkey attaches great importance to its ties with China, and is ready to further cooperation.
During his meeting with Mottaki, Yang said China and Iran are maintaining a good momentum in developing ties, and have very productive cooperation in various sectors. Mottaki said that Iran is ready to further expand its cooperation with China in the fields of economy, trade and energy.
Editor:Zheng Limin |Source: CNTV.cn