Watch Video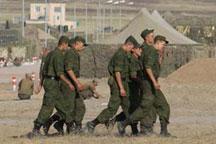 Play Video
The Shanghai Cooperation Organization's 'Peace Mission 2010' drill has concluded in Kazakhstan. The 16-day exercise displayed the cooperation being developed between member states in strategy and tactics.
Peace Mission 2010 ran from September 9th to 25th.
During the joint drill, five-thousand troops from China, Kazakhstan, Kyrgyzstan, Russia and Tajikistan practiced a variety of maneuvers. The drill improved their military cooperation.
Liang Guanglie, Chinese Defense Minister, said, "They have done a good job in the exercise. The cooperation meets our goals."
From strategic negotiations to live military drills, the participating troops performed excercises to combat the "Three Evil Forces" - terrorism, separatism and extremism - while also maintaining peace, security and stability in the region.
Despite the overall stable situation in Central Asia, the "Three Evil Forces" still occur. International illegal drug groups, external forces and terrorism organizations have produced disturbances affecting stability in the region. That includes the Uzbekistan riots, which claimed 169 deaths in 2005, and last year's Urumqi riot in China's Xinjiang Uygur Autonomous region.
It was the seventh joint drill held by SCO member countries. This was a more mature exercise mechanism, with increased participation from member states and exercise settings closer to live battle.
Related stories
Editor:Zhang Jingya |Source: CNTV