Watch Video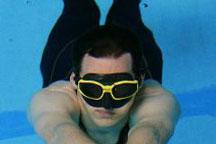 Play Video
A New Zealand free diver has set a world record after swimming 265 meters lengthwise underwater on a single breath.
29-year-old David Mullins stayed submerged for four minutes in an Olympic-sized swimming pool north of Wellington.
Mullins broke the dynamic apnea event with fins record held by Frenchman Fred Sessa. In the event the contestant must swim horizontally and under their own power but with the use of fins.
Mullins is a champion free diver whose lungs can hold 15 liters of oxygen and can hold his head underwater on a single breath for eight minutes.
Editor:Zhang Pengfei |Source: CNTV.CN