Watch Video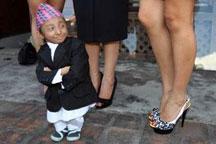 Play Video
The Nepali government is appointing the world's shortest living teenager, Khagendra Thapa Magar, as a Goodwill Ambassador to promote tourism in the land of Mount Everest.
Tourists flock to the Himalayan nation to see the world's tallest mountain, which lies on the country's border with China's Tibet Autonomous Region.
The playful 17-year old, measures 2 feet and 1.8 inches tall. He currently holds the Guinness Record as the world's shortest living teenager.
He's expected to become the world's shortest man when he turns 18 on October 14th. The current record holder stands at 2 feet and 3.46 inches.