Watch Video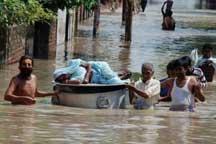 Play Video
Floods continue to wreak havoc in India's northern state of Utta-ra-khand. Despite authorities carrying out rescue and relief work, many villagers complain of administrative apathy.
Ninety National Disaster Response Force rescue workers have been deployed to flood-hit India's worst affect areas.
Traveling aboard motorboats, crews ferried essential food items to the affected villages.
But in the state of Uttar Pradesh, local villagers complain that little to nothing has been done to help them. They slammed the administration for giving what they claim is a pittance to survive.
Asraf, Villager, Uttar Pradesh, said, SRAF, "Authorities have only visited the area, but no senior official has arrived. They have distributed minimal food and other relief materials to flood victims."
For their part, local authorities, have said that they created rehabilitation centers in the district.
Aatmaram, Sub-Divisional Magistrate, Uttar Pradesh, said, "We have set up relief centers at four high schools. This move is necessary to spearhead flood relief operations."
However, villagers complain that these centres are insufficient and they have been forced to live in makeshift shelters by the roadsides.
Meanwhile, foreign tourists continue to flock to India's northern states of Jammu and Kashir in the Kashmir Valley despite the region's floods.
Editor:Zhang Pengfei |Source: CNTV.CN