Watch Video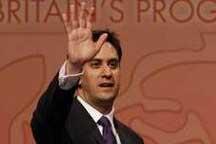 Play Video
Former Energy Secretary Ed Miliband has beaten his older brother David to become the new leader the British labour party. Now let's find out more about him.
Born in December 1969, the son of Jewish immigrants, Ed studied at Oxford University and the London School of Economics. Before becoming a member of parliament, Miliband chaired the Treasury's council of economic advisers and served as an adviser to then Chancellor, Gordon Brown.
Right-wing newspapers have dubbed him "Red Ed" because of his backing from trade unions and his appeal to Labour's core vote.He now succeeds Brown as he attempts to lead the party back to power after it lost this year's general election after 13 years in government.
Related stories
Editor:Zhang Ning |Source: CNTV