Watch Video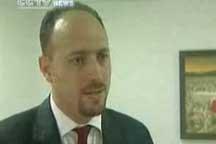 Play Video
With the arrival of the Israeli settlement freeze expiration deadline, individuals and parties affected by the issue are voicing very different responses.
West Bank resident Moshe Polack said, "I think the whole moratorium was a mistake to begin with. It's a weakness on the part of the Israeli politicians that they acceded to it."
Husam Zomlot, spokesman of Palestinian Negotiating Team,said, "We do not negotiate settlement freeze. We negotiate the end of Israel's occupation, and the dismantling of all illegal settlements. Our position is clear. It is that there can be no flexibility with illegality. Land theft must stop!"
Editor:Zhang Ning |Source: CNTV