Watch Video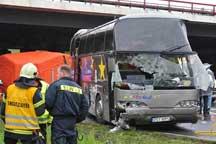 Play Video
At least 12 people have been killed and dozens injured when a bus carrying Polish tourists home from Spain crashed on a motorway east of Berlin.
Police say seven of the injured are in critical condition, while another 27 suffered injuries that were not life-threatening.
Polish Prime Minister Donald Tusk has left Warsaw for the crash scene. Authorities believe the Polish bus was forced off the highway by a car merging into traffic then slammed right into a concrete, bridge support.
Jens Quietschke, Police Spokesman, said, "We still do not know the exact reason for the accident. So far we presume that one car from the distributor road drove onto the A 10 motorway and lost control and then began to skid and collided with a Polish bus on its way home from Spain. Then the bus driver lost control and slammed into the bridge support which we can see in the background."