Watch Video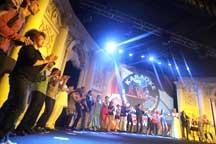 Play Video
In Moscow, singers from across the globe have competed in the finals of the World Karaoke Championships. The stage was only open to amateurs.
The three day competition attracted 31 competitors from around the world.
They were competing for two record deals, in men's and women's contests, as well as a chance at stardom.
A few hundred spectators took in the show from round tables, waving flags as contestants from their native countries were performing.
35-year-old bank project manager from Australia, Luke Kelly, was named Australia's best karaoke singer in July this year. He was hoping to become the fourth Australian to win the title. But it was not meant to be this time.
Luke Kelly, Australian Competitor, said, "It's a really interesting and challenging competition, there's a lot of amazing singers, and obviously you really have to choose songs and clothes, and moves, and all that sort of stuff to try to impress the judges. So, it's very challenging in that respect, but it's also really fun because you've got to entertain people, and people respond to you, and enjoy the show, so it's really good fun as well."
The final competition lasted several hours and finished late after midnight, and the winners were chosen by public vote
As Maria Saarimaa-Ylitalo almost burst into tears as she was announced the winner of the women's contest.
Maria Saarimaa-Ylitalo, Female Champion, said, "The only singing lessons I've been taking are the five lessons before we came here. So, that's all the singing lessons I've got. So thank you to my singing teacher [Tuire] who made this happen really."
Maria's Finnish compatriot, Sam Moudden, won the men's contest.
The Championships were crowned during a final joint performance of Michael Jackson's "We Are the World."