Watch Video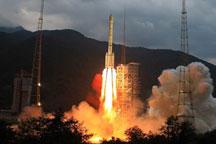 Play Video
China yesterday (Friday) launched the country's second unmanned lunar probe, Chang'e 2 from the Xichang Satellite Launch Center in Sichuan Province. The mission marked another step for China's pursuit of moon exploration.
"5,4,3,2,1, Liftoff!"
Named after a legendary goddess who flew to the moon and resided there from her home on the earth, Chang'e 2 took with her China's dream of finding more and knowing more about the earth's closest companion in the universe.
25 minutes after blastoff, Chang'e 2 detached from the Long March 3C rocket, entering trans-lunar orbit which has an apogee of 380,000 km from the earth.
From now on it is on its own facing its many challenges in the space.
This also marks the first time that China has sent a satellite directly into trans-lunar orbit.
subtitle:
"The solar wings of Chang'e 2 have spread normally, the satellite is operating normally."
The missions of Chang'e 2 include testing key technologies and collecting data for future landings and providing high-resolution photographs of the landing area.
Cen Zheng, Director of Chang'e 2 Rocket System, said, "This is a test experiment for Chang'e 3 and Chang'e 4, from the results, we can say, it has reached our expectations."
Launched on the 61st National Day of China, Chang'e 2' was built as an alternative to Chang'e I, which was launched 3 years ago and maintained a 16-month lunar orbit.
The designed life of Chang'e II is six months, compared with one year for Chang'e I.
Chang'e 2 will orbit 100 kilometers above the moon, compared with 200 kilometers for Chang'e 1.
The successful launch of Change 2 marks China becoming another step closer to landing on the moon.