Watch Video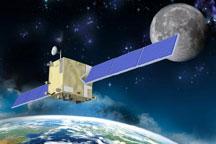 Play Video
In October 2007, China launched Chang'e-1, which orbited the moon and took high-resolution pictures of the lunar surface. So what is Chang'e-2 going to do and what more can we learn about the moon?
Chang'e-2 lunar probe is upgraded by Chang'e-1's backup satellite. The aim of launching the Chang'e-2 experimental mission is to test the key techniques of Chang'e-3 and Chang'e-4, as a preparation for a soft lunar landing in the future.
Wu Weiren, Chief Engineer, China's Lunar Exploration Programme, said, Chang'e-2 mainly serves as a pioneer satellite for its successors. It will detect the surroundings on the lunar surface and make sure the current orbit is suitable for a soft-landing operation in the future.
Compared to Chang'e-1, the technique of Chang'e 2 is more renewed, advanced and complicated. A rocket with a stronger impulse sends Chang'e 2 directly into the earth-moon transfer orbit. This cuts the total travel time to lunar orbit by half. The Chang'e-2 can reach lunar orbit within five days, compared to Chang'e-1, which required nearly 14 days.
The Chang'e-2 will experience many orbital changes and adjustments. It will orbit 100 kilometers closer than its predecessor, at around 15 kilometers from the moon, while carrying a higher resolution stereo camera.
Wu Weiren, Chief Engineer, China's Lunar Exploration Programme, said, After its liftoff, Chang'e-2 will start to take pictures of the earth and moon respectively. Once it reaches lunar orbit, it will attempt to capture images of both simultaneously.
When Chang'e-2 reaches its circling orbit around the moon, the CCD camera it carries will capture the 3D image of the lunar surface with a high resolution of 10 meters. When it lowers to 15 kilometers from the moon, the camera will be able to take clearer pictures of the selected soft-landing area with a higher resolution of 1 meter. Audiences can expect detailed images of the lunar landscapes from the Chang'e-2
The scientific objectives of the project include investigating the lunar landscape and exploring the geological structure of the moon. The mission will also help China study the material composition of the moon and search for usable resources.
Related stories
Editor:Zhang Pengfei |Source: CNTV.CN