Watch Video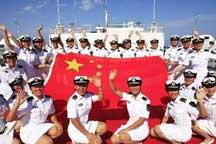 Play Video
Now, let's shift our focus from Beijing to other parts of China where people gathered to celebrate National Day.
This is the Golden Bauhinia Square in Hong Kong where a national and regional flags-raising ceremony was held as China's national anthem is played.
Thousands of Hong Kong residents take part in the ceremony.
When the flags reach the top, two helicopters carrying both flags fly above the square.
Back on the ground, people are excited for the ceremony.
Student, Hong Kong, said, "Today is the 61st anniversary of PRC. I wish my country a prosperous future."
In Central China's Henan Province, hundreds of Taiji lovers celebrate national day by organizing a special performance.
All the performers are senior citizens. This is their way to keep fit.
Yang Zongcheng, Taiji Performer, said, "I think the performance is very good because I always feel comfortable after doing Taiji and today's performance also added to a more festive atmosphere."
Five-thousand miles from China in the Gulf of Aden, soldiers on the hospital ship "Peace Ark" dance and sing happily to celebrate.
Female sailors swear to always be loyal to the country and successfully perform their duties.
Though not in China themselves, they say their hearts always belong to the country.