Watch Video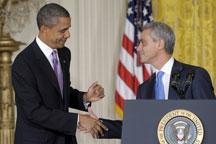 Play Video
US President Barack Obama has announced that White House Chief of Staff Rahm Emanuel will resign from his position as White House Chief of Staff.
Emanual is expected to run for mayor of Chicago, after serving just 20 months in the Obama administration.
Pete Rouse, Obama's chief of staff when he served in the U.S. Senate and currently a senior advisor to the president, will serve as Emanuel's interim replacement.