Watch Video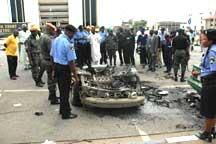 Play Video
Two car bombs exploded in Abuja, as Nigeria celebrated its 50th anniversary of independence. The blasts killed at least seven people.
The Movement for the Emancipation of the Niger Delta had threatened to attack the festivities and warned people to stay away.
A third and smaller explosion hit a venue at Eagle Square where President Goodluck Jonathan stood with other dignitaries, about a 10-minute walk from where the car bombs detonated.
One security agent was injured. Reports say anger due to oil spills and the region's poverty, militants in the delta have targeted pipelines, kidnapped petroleum company workers and fought government troops since 2006.