Watch Video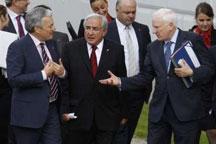 Play Video
European Union Finance Ministers met to decide on a plan for a new tax to be levied on the banking sector.
The European Commission wants banks to contribute to paying the costs of the economic crisis through a financial transaction tax. Also being discussed are more regulations on credit ratings agencies.
Sweden's Finance Minister wants the Irish government, which announced a huge bank bailout package, to go further in its efforts to combat its mammoth national debt.
Coupled with the downgrade of Spain's bonds by a third ratings agency, and Greece teetering on the edge of bankruptcy, Ireland's financial trouble provides more evidence that Europe has not shed its debt problems.
Olli Rehn, European Monetary Affairs Commissioner, said, "We are in favor of exploring a financial transaction tax, and we have proposed a stability fee or bank levy already, in order to ensure that the private and banking sector will contribute to the cost of the crisis. I'm looking forward to a very important discussion on this today."
Related stories
Editor:Zhang Pengfei |Source: CNTV.CN