Watch Video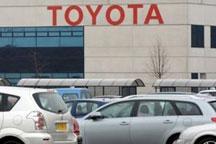 Play Video
Toyota, the world's largest automaker, suffered a 40 percent decline in dealership orders in September. The company is starting to trim domestic output, and offer more incentives.
Toyota's orders at Japanese dealers reportedly fell over 40 percent in September, as a government eco-subsidy programme ended.
The Nikkei newspaper said Friday the world's top automaker is likely to see a Japan sales decline in coming months, with orders for high-end models and SUVs seeing the sharpest drop.
Sales of sub-compact cars were strong, although orders for its hybrid Prius slowed during September, the Nikkei said.
Toyota plans to trim domestic output 20 percent to 12,000 units daily, while offering incentives to attract buyers.
The slowdown comes as top carmakers voice cautious optimism at the Paris auto show.
Nissan and Renault CEO Carlos Ghosn said expectations of global market growth of up to 4 percent in 2011 were reasonable.
Ghosn said he expected electric cars to exceed his initial prediction of a 10 percent market share by 2020.
Editor:Zhang Pengfei |Source: CNTV.CN