Watch Video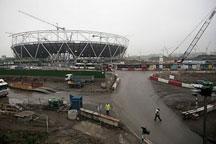 Play Video
With less than 2 years to go, London is busy making preparations for the 2012 Olympic games. Around 300 hundred thousand people are expected to visit, but those numbers could be overly optimistic.
Previous Olympic Games have seen shortfalls from early predictions. So what's likely to happen in London in 2012?
Karen Roberts, London, said, "Well, work is well underway for the London Olympics in 2012, as you can see; and behind me, is the main stadium ... but a recent report suggests that London may have false expectations concerning visitor numbers."
The report, from the European Tour Operators Association, claims that a "toxic" Olympics effect may hit UK visitor numbers.
Tom Jenkins, Executive Director of the European Tour Association explained that their research had revealed that the predicted numbers for previous Olympics fell far short of the actual numbers.
Tom Jenkins, Executive Director of the European Tour Association, said, "The big problem facing London is the more Olympics visitors it attracts, the more tourists it displaces."
He said that potential tourists are put off as they believe the city is going to be full of visitors for the Olympics:
Tom Jenkins, said, "And so, with that impression, they find that this is not the place to go during the Olympic year. And this is a problem we've seen in many cities before this."
Jacqueline French, Senior PR Manager of London's tourist body, Visit London, agrees that previous Olympic cities have over estimated visitor numbers.
Jacqueline French, Senior PR Manager of London's tourist body, said, "What has happened in previous Olympics games is cities have made an estimate but actually visitor numbers have fallen short."
She says that there is a perception that the city will be too busy and that accommodation and transport will be problematic; she argues, however, that the reality is that:
Jacqueline French, said, "London is very different to many of the other cities. A lot of the venues we've got already exist: the transport infrastructure already exists: we have a huge number of hotel rooms. We already have a lot of advantages that other cities haven't had."
To address the situation of visitor numbers to London 2012, Tom Jenkins believes that London has to do two things.
Tom Jenkins, said, "London's got to try and attract as many domestic tourists the games can. Because it's the domestic tourists that define the games: it's their enthusiasm that will make the games a great games on the television set. Secondly, it has to try and attract as many normal tourists as possible during the Olympic period because they are the lifeblood of the commerce of London. Without them London's going to find it very, very difficult during 2012."
Let us suppose that the audiences know nothing about the event, and so we have to add some background information here, or somewhere in the story these information may include, but is not limited to: the accommodation and transport capacity of London, efforts made to accommdate the visitors of 2012 Olympics.
Editor:Zhang Pengfei |Source: CNTV.CN