Watch Video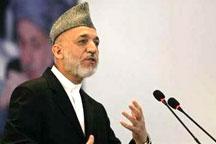 Play Video
Afghan President Hamid Karzai called on Saturday for his own police and army to rise up and take charge of national defense. This comes as the eventual exit of international forces from Afghanistan is underway.
Afghan President Hamid Kazai's speech on Saturday was upbeat and carried nationalistic themes.
He spoke after promoting 28 members of the Afghan police, army and intelligence service at his presidential palace in Kabul.
Karzai says the US and NATO will pull their forces out of Afghanistan once they no longer felt the need to stay for their own national security interests.
Hamid Karzai, Afghan President, said, "Every country, every foreign element is seeking its own national interest. It is possible that one day this international community, which is with us today, will not see a benefit in Afghanistan any more, and will leave us like they have left us in the past."
He added when that happens, Afghans must be ready to protect the borders, the people and display good governance.
Karzai cautioned the 100 members of the security forces in the audience not to rely on a long-time presence of international forces. He urged them to use the current time to bolster their capacity.
Editor:Zhang Pengfei |Source: CNTV.CN