Watch Video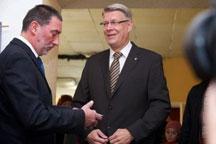 Play Video
An exit poll and a partial count of votes, have shown voters in Latvia, favoring the government's coalition.
The results could give Prime Minister Valdis Dombrovskis a new mandate to continue painful economic reforms in one of the world's most recession-scarred economies.
An exit poll by local media showed the center-right government of Prime Minister Valdis Dombrovskis winning 55 percent of the vote.
Meanwhile, the Central Election Committee reported that, with 29 percent of the ballots counted, the government has a commanding lead of 64 percent of the vote.
If the trend continues, it is all but certain that Dombrovskis would remain in power.
Valdis Dombrovskis, Latvian Prime Minister, said, "Well we know that there have been several parties calling for scrapping international loan programme, for scrapping Latvian economic stabilisation programme, promising all kind of wonders, but we see that voters were not really buying it."
Latvia's economy overinflated after four years of double-digit growth, and economic output plunged 25 percent over the past two years.
President Valdis Zatlers, who has the right to nominate the next prime minister, said that one of the criteria in his selection will be strict adherence to the 7.5 billion euro emergency bailout package put together by the IMF and the EU.
The bailout saved Latvia from bankruptcy, but it also shackles any future government to harsh budget cuts and tax hikes - something that will not sit well with a population that saw unemployment reach nearly 25 percent last year.
Editor:Zhang Pengfei |Source: CNTV.CN