Watch Video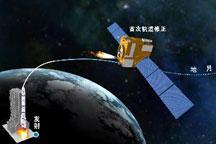 Play Video
Beijing Aerospace Command and Control Center has completed adjusting the orbit of China's latest lunar probe, the Chang'e-2. More ajustment is also expected on the probe's way to the moon.
The satellite was launched just before 7 pm Friday, inaugurating the second phase of a three-step moon mission, which will culminate in a soft landing on the moon.
It's the first time a Chinese lunar probe has directly entered an earth-moon transfer orbit without orbiting the earth first.
The earth-moon transfer orbit is a complex curve. Chang'e 2 may slightly change its orbit due to the influence of the atmosphere and cosmic environment. If the adjustment is not on time, the satellite could depart from its orbit and may not be able to land on the moon. So, adjustment of its orbit is vital.
Xie Jianfeng, Beijing Aerospace Control Center, said, "From the statistics, we can see that the rocket has sent the satellite into the planned orbit successfully. Everything is going well. We give the mission one hundred per cent marks. It will take 5 days to fly to the moon, so if we don't adjust its orbit on time, the slight aberration will be extended. "
According to the monitoring plan, there are 3 adjustments during Chang' E 2' s journey to the moon. But their exact times depend on the satellite's practical flying conditions.
Editor:Zhang Pengfei |Source: CNTV.CN