Watch Video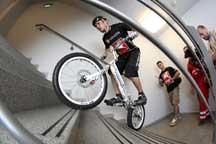 Play Video
A Polish stunt cyclist has used his bike, to reach the top of Austria's highest building, the 202 meter tall Milleniums tower in Vienna.
Rather than turning the wheels of his tiny stunt bike, Krystian Herba "bunny hopped" up the office building's 48 floors in just 18 minutes and 9 seconds on Saturday.
It was Herba's first attempt outside Poland and also the highest building of his stunt career so far. His next plan is to attempt the 324 meter tall Eiffel Tower in Paris.
Krystian Herba, Stunt Cyclist, said, "I'm very satisfied with this climb. I did not expect such a fast time, 18 minutes 9 seconds, that is much faster than I expected. I thought it would take about 20 minutes. This is the highest building I ever climbed, the first one outside Poland, it will for sure not be the last and I think I will surprise you more than one time in the future."