Watch Video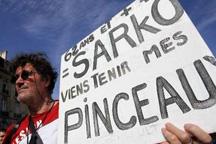 Play Video
France's Senate on Tuesday started the debate on raising the retirement age, from 60 to 62. The government's reforms, have now prompted nationwide strikes and protests.
The normally sleepy upper house of France's parliament was the scene of a rare protest on Tuesday. Senators had started ratifying the controversial plan to increase the retirement age, part of a series of government deficit-cutting measures.
Unions see retirement at 60 as a firmly entrenched right, and have tangled nationwide transport with strikes over the measure and rallied one million people to the streets in recent protests.
Socialist Party leader Martine Aubry said, "When everybody says no to a reform well then the government and the President need to act accordingly."
France is among many indebted European countries trying to scale back spending. The government says its money-losing pension system will collapse without reform.
Senator Dominique Leclerc, who introduced the pension reform to the Senate thinks it's essential.
Senator Dominique Leclerc said, "We all have to be realistic. If we don't change anything, if nothing is done, the whole pension system is endangered. For us it is essential, and I do think that the government is being courageous. And there is no miracle solution."
More demonstrations and strikes are planned in the coming days.
But the government says it won't back down over the increase in the age limits, as President Nicolas Sarkozy has called the bill his top priority for the rest of his term.
Editor:Zhang Ning |Source: CNTV