Watch Video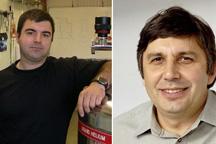 Play Video
Two Russian-born scientists share this year's Nobel Prize in physics for "groundbreaking experiments" with the thinnest, strongest material known to mankind. They're being recognized for researching a carbon vital, for the creation of faster computers and transparent touch screens.
51-year-old Andre Geim is a Dutch national, while 36-year-old Kons-tantin Novo-selov holds both British and Russian citizenship. Novo-selov is among the youngest to win the prize, that normally goes to scientists with decades of experience.
In 2004, the two professors at Britain's University of Manchester,isolated graphene, a form of carbon just one atom thick, but more than 100 times stronger than steel. They then went on, to demonstrate, it's exceptional properties. Experiments with graphene, could lead, to the development of new superstrong materials and innovative electronics.
Editor:Zhang Ning |Source: CNTV