Watch Video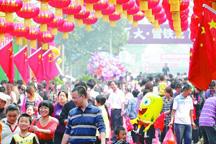 Play Video
Tourists numbers, throughout China during the National Day golden week have hit new records. Already five days into the week long holiday, various sites across China have seen huge increases in tourists from last year's numbers.
It's turning out to be a truly golden week for China's tourism industry.
Statistics show that 119 tourist sites throughout the country received more than 4.2 million visitors, around 18 percent more than the same period last year.
Meanwhile, the number of visitors to the Chinese capital's most famous sites witnessed its peak on Monday.
Landmarks like the Forbidden city and capital museum have seen large crowds throughout the Golden week.
At the Forbidden city, cultural relics from the Ming Dynasty made their debut at an exhibition.
Elsewhere in country, the Shanghai Global Financial Center received 24 thousand visitors, around 110 percent more than the same period last year.
Those looking for a taste of ancient history weren't disappointed either. Tourists numbers in Xi'an in northwest China's Sha'an'xi Province during the National Day golden week also hit a new record.
China's natural wonders were also in high demand. At Huangshan Mountain of Anhui Province, the sea of clouds has attracted many visitors from home and abroad.
This year, visitors to Lushan Mountain in Jiangxi Province, were given an extra rare treat. Clouds moved down along the mountain, resembling a floating waterfall in the sky. The four day natural wonder came exactly at the right time.
Editor:Zhang Ning |Source: CNTV