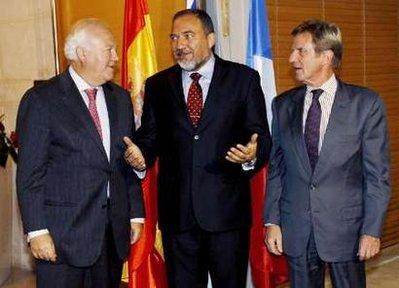 Israel's Foreign Minister Avigdor Lieberman speaks with his French
counterpart Bernard Kouchner (R) and his Spanish counterpart Miguel
Angel Moratinos (L) before their meeting in Jerusalem October 10,
2010.
RAMALLAH, Oct. 11 (Xinhua) -- France is preparing an initiative that aims at resuming the stalled direct peace talks between the Israeli and the Palestinians, French Foreign Minister Bernard Kouchner said Monday.
"Israeli Premier Benjamin Netanyahu asked the European Union to play a role in peacemaking and intervene to bridge the rift between the Palestinians and the Israelis," Kouchner told a joint press conference with his Spanish counterpart Miguel Moratinos in the French Consulate in Jerusalem.
But Kouchner did not reveal the content of the plan.
Kouchner and Moratinos met Monday with the western-backed Palestinian Prime Minister Salam Fayyad in French Consulate in Jerusalem.
"My impression following the meeting is very positive," said Kouchner. "I think it's possible to bridge the gaps between the two sides."
The French foreign minister also said he discussed with Fayyad the mechanisms of holding a donor conference to support the Palestinian National Authority (PNA).
Kouchner said he does not support the idea of approaching the United Nations Security Council to get a recognition of a Palestinian state since this option reduces the opportunities of reaching a peace deal.
Direct peace talks, which started under the U.S. umbrella on Sept. 2, hit a deadlock after Israel turned down a Palestinian demand to renew a previous Israeli decision of settlement construction freeze.
Palestinian President Abbas told the Arab meetings in Libya that he would seek new options and alternatives in case the Palestinian-Israeli peace talks remained suspended.
Editor:James |Source: CNTV