SAN FRANCISCO, Oct. 11 (Xinhua) -- Microsoft Corp. on Monday unveiled the first wave of handsets running Windows Phone 7, the software giant's latest mobile operating system, in an attempt to make new gains in the smartphone market.
Microsoft, together with its partners, showcased a total of nine new phones that will be available this holiday season in North America, Europe and Asia Pacific.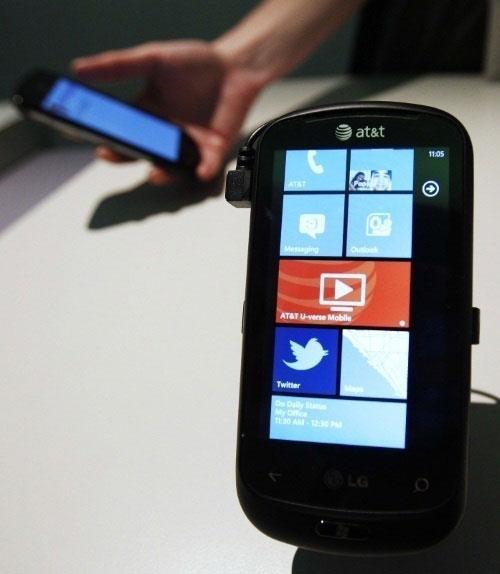 The new Windows Phone 7 is seen at the Windows Phone 7 launch news conference in New
York October 11, 2010. (Xinhua/Reuters)
AT&T, the second largest mobile carrier in the United States, announced that it will offer three new Windows phone models from HTC, LG and Samsung and the first one will be the Samsung Focus, which is scheduled to go on sale on Nov. 8.
Two other phones made by HTC and LG will be available in time for the holidays, AT&T said.
All three Windows phone from AT&T will each have a touch screen, 5-megapixel camera and a 1GHz Snapdragon processor from Qualcomm, and will be priced at about 200 U.S. dollars after a two-year service agreement and smartphone data plan.
T-mobile, the fourth largest wireless carrier in the U.S., on Monday also said that it plans to launch HTC HD7, its first Windows Phone 7 handset, in mid-November.
The HTC HD7 features a 4.3-inch touch display, which will be the largest screen available on a Windows phone in the U.S., T- mobile said.
According to Microsoft, more than 60 mobile operators in over 30 countries and regions worldwide have committed to bringing Windows phones to market.
The lineup of the new Windows phones is seen as Microsoft's boldest move to regain market share in the increasingly competitive smartphone market.
Data from research firm Gartner showed that Microsoft now has a market share of just 5 percent in the global smartphone market, trailing behind Research in Motion's BlackBerry, phones powered by Google's Android operating system and Apple's iPhone.
In a press release, Microsoft noted that despite the success of the iPhone and Android, the global smartphone market is still relatively untapped, hoping that the new phones will give it a " completely fresh start."
While revealing the new phones, Microsoft also touted some features of the Windows Phone 7 software to differentiate itself from competitors.
Different from the current trend toward app-focused phones, the new Windows phones provide active and configurable interface elements called "live tiles" which can show users real-time content, such as social media updates and contacts, Microsoft said.
The company added that the new phones also bring together many of Microsoft's popular offerings from other platforms, including Xbox, Zune, Office and Bing.