Watch Video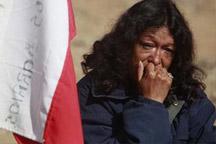 Play Video
As rescue efforts for the trapped miners continue, a group of volunteers are providing physical and emotional support to the miners' loved ones. CCTV's Michelle Begue tells us more from Camp Hope.
Laughter, singing, dancing and praying, these are the things more than 800 journalist witness every day at Camp Hope in the dessert of Atacama. 350 family members of the 33 trapped miners are surrounded by not only journalist and rescue workers but volunteers, who have now turned into friends.
Maria, Volunteer, Cafeteria, said, "We connect while we stay here with the families. We have created beautiful ties. We feel everything they feel, they cry because of the pain, we do as well. They cry tears of laughter, so do we. They sign and laugh, so do we. For me it is a very enriching experience."
Volunteers from nearby municipalities and even from international organizations such as the red cross, come to provide physical and emotional support to the miners' loved ones. Every day meals are given free of charge to feed all the workers, family members, and even journalist who await the miners. Many of the volunteers have been at the camp site since day one, when the survival of the miners was not even known.
The need for laughter during such a tense time for family members is what brought Rolando Gonzalez to Camp Hope. As a miner himself he understands the importance of supporting family members through this tough time.
Rolando Gonzales, Roli The Clown, said, "First of all when I saw the very sad children of the miners in the news I decided to come. I have been here a month. I live here, I sleep here, I eat here, I get sick and I get better here."
Sharing all these moments have proven that the mining community is a strong group. Rolando explains that this is characteristic of a mining community.
Rolando Gonzales, Roli The Clown, said, "The mining community is very big but they are all one. When something happens to one of them, or a colleague has an accident, the whole mining family feels that pain."
The families have been very grateful to see the outpouring of support. Volunteers have been helping the children of trapped miners at a portable school that has been brought to the camp.
Michelle Begue, Camp Hope, Chile, said, "Maybe the strongest lesson to be learned at camp hops is a message of solidarity. For 68 days the miners have shown signs of the unity while trapped 700 meters below the ground. Meanwhile on the surface Chileans from all over the country have come to show their support for the families who have been living this difficult ordeal."
Editor:Yang Jie |Source: CNTV.CN