Watch Video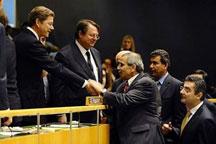 Play Video
The 192-member UN General Assembly has elected Colombia, Germany, India, Portugal and South Africa as non-permanent members on the UN Security Council. The five members will serve two-year terms starting January 1st.
Colombia, India, Germany and South Africa gained the uncontested seats as they had no opposition and won easily on the first ballot.
Portugal won 150 votes in the third round of the ballot to win as Canada withdrew its candidacy for the slot.
This is the first time Canada has failed to win a seat. The North American country lost support from African and Arab countries for its strong pro-Israeli policies.
Portugal's Secretary of State for Foreign Affairs Joao Gomes Cravinho says his delegation was not surprised by the win.
Joao Gomes Cravinho, Portugal's Secretary of State for Foreign Affairs, said, "With this I think we showed that Portugal has a foreign policy that reaches all parts of the globe and now we are going to start the difficult bit, which is the work, the preparation for the security council."
The five new non-permanent members of the council will replace Austria, Japan, Mexico, Turkey and Uganda.
The five members elected last year - Bosnia, Brazil, Gabon, Lebanon and Nigeria - will remain on the council until the end of 2011.
With victories by South Africa and India, and with Nigeria and Brazil already members, the council next year will have major regional and emerging global powers in Asia, Africa and Latin America.
Germany's victory also puts Europe's major economic power and the world's fourth largest economic power on the council.
Related stories