Watch Video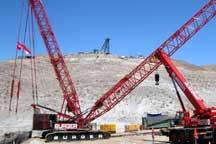 Play Video
A colossal Chinese-made crawler crane, is standing ready at the mine site to help rescue the 33 trapped miners.
The SCC-4000 crawler is made by Sany Heavy Industries in Shanghai. Engineers from the Chilean branch of the company, are standing by to provide professional help. The crane was used to insert the giant metal tubes to reinforce the rescue shaft.
A Chinese engineer, says once the complications inside the tunnel are overcome, the crane will work perfectly to save the miners. Chile bought the crane from Sany in 2008.
The machine has the greatest lifting capacity of all the crawler cranes, that China has exported to South America.
Related stories