Watch Video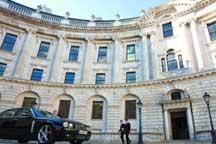 Play Video
British Chancellor of the Ex-chequer George Osborne has unveiled details, of drastic spending cuts, which could be the largest in over 6 decades. The government, will cut half a million jobs, slash the state welfare and raise the retirement age.
83 billion pounds in spending cuts through to 2015. As many as 500,000 public sector jobs will be lost, welfare payments sharply reduced and dozens of scheduled government programmes halted.
The cuts will fall in almost all areas of government spending, an average 25 percent budget cut in Whitehall departments.
Recession-battered Britain has now learned the true cost of the global financial crisis, as the government outlined the largest cuts to public spending since World War Two.
George Osborne, UK Chancellor of the Exchequer, said, "Today is the day when Britain steps back from the brink, when we confront the bills from a decade of debt - a day of rebuilding when we set out a four-year plan to put our public services and welfare state on a sustainable footing for the long term, so that they can do their job providing for families, protecting the vulnerable and underpinning a competitive economy."
In the banking sector, a temporary levy on bank balance sheets being introduced in January will be made permanent, potentially raising billions of pounds.
The state pension age for men and women would reach 66 by the year 2020 - four years earlier than planned, potentially saving five billion pounds a year.
The government says it's a hard road, but it leads to a better future.
David Cameron, UK Prime Minister, said, "We are not doing this because we want to. There is no ideological zeal in doing this. We are doing this because we have to. The whole point, the whole point of the government's approach is to take the British economy out of the danger zone."
However, recent surveys and protests have suggested that many Britons were uneasy about the austerity measures, which some economists say, might lead to economic stagnation.
Many business and consumer confidence measures are already waning even before the measures begin.
The British government argues it has no choice given the need to cut a record budget deficit of 11 percent of GDP- to around 2 percent in 5 years.
Related stories
Editor:Zheng Limin |Source: CNTV.cn