Watch Video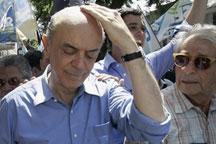 Play Video
Brazil's opposition presidential candidate has been hit on the head by an unidentified object while campaigning in Rio de Janeiro.
Jose Serra's campaign headquarters said he was struck after a confrontation broke out in Rio de Janeiro between his supporters and those from the ruling Workers' Party.
It is not clear what hit Serra in the head or who threw the object. No arrests have been made.
Following a checkup at a clinic, Serra has resumed his campaign schedule.
Serra faces the government-backed Dilma Rousseff in the second-round vote on October 31st. Serra is about eight percentage points behind Rousseff in the latest polls.
Related stories