Watch Video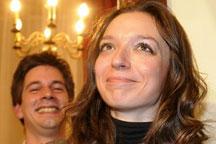 Play Video
The curtain has fallen on the 2010 International Frederic Chopin Piano Competition, the oldest of its kind, and a 25-year-old Russian entrant has won the top award.
Waldemar Dabrowski, Director of Polish GRAND Thater & National Opera, said, "Ladies and gentlemen, the winner is Yulianna Avdeeva, Russia. Bravo!"
Yulianna Avdeeva was chosen from among 10 finalists, after lengthy late-night deliberations that followed a competition marked by the high quality of its performances.
Her expressive and mature rendition of Chopin's "Concerto in E Minor" drew a standing ovation. She studied in Moscow, and now works as an assistant to a Russian professor in Switzerland.
This year's event attracted very strong interest, as it coincided with the 200th anniversary of the legendary pianist's birth.
Of the 81 total participants, 16 came from Japan, and 13 from China. This highlights Asia's increasing clout in the field of Western classical music.