Watch Video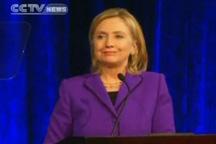 Play Video
U.S. Secretary of State Hillary Clinton has warned Israel and the Palestinians there is no "magic formula" to break an impasse over peace talks. But, she said hard work could still yield a deal.
Clinton made the message when speaking to a Palestinian advocacy group that supports a peaceful end to the conflict.
She said both Israeli Prime Minister Benjamin Netanyahu and Palestinian President Mahmoud Abbas remained committed to a two-state solution despite a standoff that threatens to torpedo the U.S.-brokered peace talks less than two months after they were launched.
Repeating messages she has given to Israel, Clinton told the Palestinian group to focus on what could be gained through negotiation, not what might be sacrificed.
Hillary Clinton, U.S. Secretary of State, said, "Now I know that there are those who think that if they wait, scheme or fight long enough, they can avoid compromising or negotiating. But I am here to say that that is not the case. That will only guarantee more suffering, more sorrow, and more victims."
Editor:Zhang Pengfei |Source: CNTV.CN