Watch Video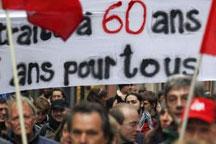 Play Video
What is at the core of the pension bill? Who will be most affected by the proposal? Confronting great opposition, why is the French government insisting on the change?
The main proponent of the French pension bill has 3 aspects. First, to increase the the number of working years to collect a pension from 40 to 41.5 years. Second, the minimum retirement age will rise from 60 to 62. And third, for those who haven't worked 40 years, the age accessible to get a pension from the government goes from 65 to 67.
The new measurement will have a different impact on different people. White collar workers have been affected less because they have higher salaries and tend to have good working environments.
However, this really affects the interest of middle and lower class workers. Usually they are less educated and began working at an earlier age. The tend to have lower salaries and are more reliant on social welfare. The reform means they have to work two more years to receive their pension from the government. So that's why during these nationwide strikes, the majority of striking employees have been blue collar workers like truck drivers and dock workers.
Many young people joined the strike, because they believe under current conditions, it is hard for graduate students to find a job. If people retire later, it will be more difficult for them to find employment.
Although the strike has become more severe, French President Nicolas Sarkozy is making no compromises. He says the current pension policy increased the government deficit, which means France is facing a debt crisis.
Retired people make up about a quarter of France's population of 65 million people. If the current pension policy doesn't change, the most optimistic result is that in 2030, the pension deficit will reach 70 billion Euro. The current 3.2 billion Euro deficit per year has put France in heavy debt.
The financial crisis added to the burden on the pension system. That's why the French government is urgently calling for pension reform.
Related stories
Editor:Zhang Pengfei |Source: CNTV.CN